The space was an old butcher's shop with a separate entrance from the main square in Trafaria, with no direct connection with the other library spaces. The existing library spaces are on the second floor without an elevator. This new space is mainly for seniors as it is easy to access.
The goal of this project – Espaço de Leitura (The reading room) – was to build a new multipurpose space for the Trafaria library with accessibility for seniors as well as to host activities for kids.
This new part of the library has magazines, journals, a small permanent collection of books and all the comforts to enjoy the pleasure of reading.
The space is equipped with a reception desk, magazine stand, bookshelf for the permanent collection, tables, chairs and stools that can be stored in a wooden structure.
This is a multipurpose space that serves as a reading area on a daily basis and as a projection room for conferences, presentations and to project movies on special occasions. This space also provides different kids activities, such as yoga for babies and after-school activities because the furniture was created to be easily stacked and stored to free the space when necessary.
Two weeks workshop
The construction work was divided into a workshop in two phases and volunteers from Portugal and abroad. Warehouse was responsible for the design and first phase of the workshop and Pátio Ambulante directed the second phase of the workshops with the stencilling and final varnish.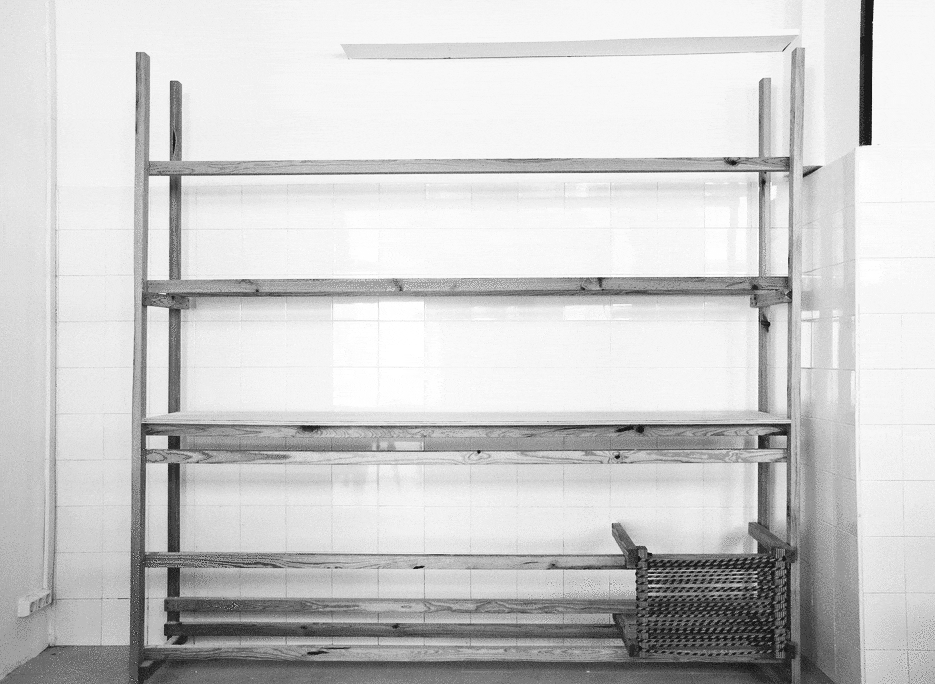 ---
Team: Warehouse
Funding: Junta de Freguesia da Trafaria
Partners: Biblioteca da Trafaria, João Gama, Pátio Ambulante
With: Ricardo Morais, Malin Mohr
Collaborators: Rúben Almeida, Lucia Caistor, Guida Ramos, Ana Labrincha, João Costa, Mariana Martins, Mónica Martins, Dolores Papa, Inês Martins, Joana Martins, Cian McKenna